Portugal Customer Buys 5W UV Laser For Marking EVA Shoes
Release time:2021/09/15
---
Portugal customer buys 5W UV laser for marking EVA shoes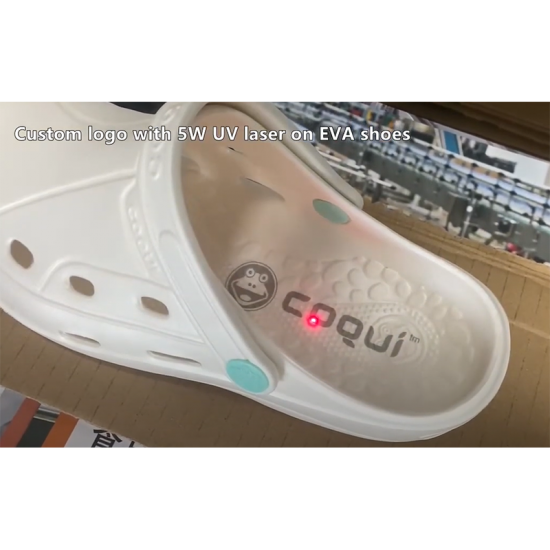 The valued customers in Portugal have always pursued the ultimate in quality requirements, so the pursuit of this high-end 5-watt UV laser can be seen. Due to its outstanding technical advantages and amazing innovative performance, this laser has become a hot topic in the market.
This distinguished customer is particularly concerned about EVA shoes, a fashionable and personalized product popular among young people. However, to further enhance the unique appeal of this shoe, our client wanted to give it an even more unique mark using UV laser technology.
The application of ultraviolet lasers in this field has brought amazing results. Its excellent high precision and stability enable each texture to be engraved on the upper in such a delicate and delicate way. In addition, the durability of this laser is impeccable, ensuring long-lasting markings and high-quality shoes.
This personalized laser marking technology brings unique artistry to EVA shoes. By engraving various patterns, text or unique designs on the upper, each pair of shoes contains a unique story and style. This not only adds fashion taste to young people, but also provides a broad space for expression of their personality and creativity.
Therefore, we are very much looking forward to seeing these customized Crocs make their debut in Portugal and lead the fashion trend. The high-end application of UV lasers provides unlimited possibilities for the perfect combination of quality, personality and art.
We firmly believe that Portuguese customers will use their excellent vision and unique taste to make these EVA shoes more attractive and become the leader in fashion trends. The application of ultraviolet lasers will add luster to their creativity and personality. We look forward to this wonderful combination of art and fashion bringing us more surprises and wonders.
To meet the market demand, RFH newly developed S9 series UV laser . Comparing with its kinds, S9 series UV laser features with rugged sealed cavity, extremely compact size, simple and robust, high stability, high efficiency, high reliability and excellent laser beam quality.Its compact design suggests no necessity in building big light path, which greatly reduces space and cost and makes it easy to be installed into UV laser marking machines. In addition, S9 series cavity structure is more stability and more excellent scalability, which means the same laser cavity can be produces multi-power lasers , and the stability of different power ranges is greatly improved.
关键词: 5W UV laser,marking EVA shoes
---