RFH 3W 5W UV Laser Marking Plastic Bottle Caps
Release time:2021/09/15
---
RFH 3W 5W UV Laser Marking Plastic Bottle Caps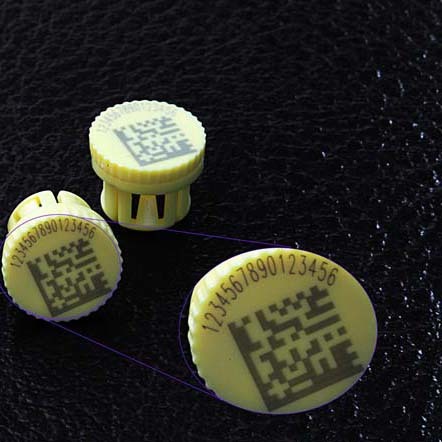 There are many materials for bottle caps, but whether it is plastic or metal, they all need to be marked, because we often place product information on the bottle caps to facilitate consumers' inquiries.
Mr. Huang, who lives in Guangxi, came to RFH recently and wanted to know and order a UV laser for the production of Apple marking lines with different materials. RFH enthusiastically recommended 3W 5W UV lasers to him.
The RFH S9 UV laser has high beam quality and a very small spot, which can realize ultra-fine marking. Its 355nm output wavelength reduces the thermal impact on the workpiece, there will be no thermal effect, and the material will not deform or burn. Secondly, its galvanometer-type high-precision marking head makes the marking effect fine and repeatable, and the high-precision light spot ensures the perfect marking result.
The non-contact marking principle can ensure the permanent marking effect, and superimposed super fast speed and high efficiency make the production technology of marking on bottle caps more prominent. Moreover, the performance of the whole machine is stable, the volume is small, the power consumption is low, and the marking power can be adjusted, which is suitable for the production of various materials. The form of one machine with multiple functions is very suitable for Mr. Huang's business, so Mr. Huang ordered a UV laser on the spot and put it into use immediately after it arrived.
One month later, RFH received feedback from Mr. Huang, and in addition to getting satisfactory results, it also conducted online training for Mr. Huang's company, allowing more workers to learn and operate simple laser marking technology.
Learn more about 3W-10W S9 pulsed UV solid-state laser:
According to the needs of market development, the S9 series laser split machines launched by Shenzhen RFH Laser Technology Co., Ltd. include water-cooled and air-cooled. Compared with similar products, the S9 series is smaller in size, more refined in design, and more stable in light output. The small and exquisite design means that users do not need to enlarge the optical path, which can greatly reduce costs and save space, and can be easily installed in the field of flying marking equipment. The S9 UV laser is not only small in size, but also has a more stable cavity structure and stronger expandability than similar products. The same cavity can generate lasers of various powers, and the stability of different power ranges has been greatly improved.
关键词: 3W 5W UV lasers,Marking Plastic Bottle Caps
---