Invitation to the 12th China (Shenzhen) Laser and Smart Manufacturing Expo in 2018
Release time:2021/09/15
---
Sponsored by Guangdong Laser Industry Association, China Instrument and Control Society, Shenzhen Laser Intelligent Manufacturing Industry Association, Shenzhen Xingzhiqiu Information Technology Co., Ltd., Shenzhen Instrumentation Society, LAERFAIR 2018, the 12th China (Shenzhen) Laser and Intelligence The Manufacturing Expo and Forum will be held from May 17th to 19th, 2018 at the Shenzhen Convention and Exhibition Center Halls 7, 8 and 9. The exhibition continues to use the theme of "laser + intelligent manufacturing". It is expected that more than 300 representatives from colleges and universities, entrepreneurs, industry organizations, and news media from all over the country will participate in the opening ceremony.
The highlights of the 2018 China (Shenzhen) Laser and Smart Manufacturing Expo are the three major pavilions, three major themed exhibitions, and nine major forums, which will be held concurrently. LASERFAIR has been successfully held for 11 consecutive years. This year's Expo will fully showcase the cutting-edge high-end technology and latest scientific research achievements of laser enterprises. With the strong expert resources, association resources, industry resources and enterprise resources of LASERFAIR, it will provide a development for China's laser industry. A unique communication platform. The "ALAT Asia Laser Forum" focuses on the laser application of the pillar industry of the national economy. Focusing on the needs of domestic laser applications, the company focuses on the development of laser industry and its existing problems in the direction of precision, high efficiency, flexibility, complete sets and green. The purpose is to lead enterprises to break through the encirclement, research and apply countermeasures, and promote the healthy, orderly and rapid development of the laser industry. The 2017 Asian Laser Forum brought together nearly 200 industry experts from 40 top universities and institutes at home and abroad to attend the conference. In three days, the nine major professional seminars staged 150 speech reports, attracting more than 6,000 listeners, a record high. This year, it is expected that more than 200 industry experts from home and abroad will open 160 lectures on 9 major forums. They are "ALAT 2018 International Preview Laser Technology Conference", "2018 China Ultrafast Laser Micro-Nano Processing Conference", "2018 China Laser Welding Technology Conference", "2018 Asia-Europe Industrial Laser Forum", "The 6th Asia (Shenzhen "Additive Manufacturing Technology Conference and Achievement Exhibition", "2018 International Laser Cleaning Application Conference", and other nine forums. Here, experts from various industries gather together to discuss hot topics, explore innovative ideas for laser intelligent manufacturing, showcase the development achievements of laser intelligent manufacturing, and add new style to the Expo.
Here, RFH Laser sincerely invites you to visit our booth!
Exhibition time: May 17-19, 2018
Booth location: Shenzhen Convention and Exhibition Center
Booth No.: Hall 8A018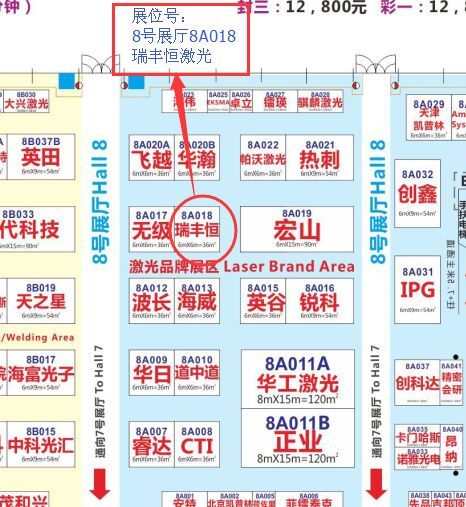 关键词:
---